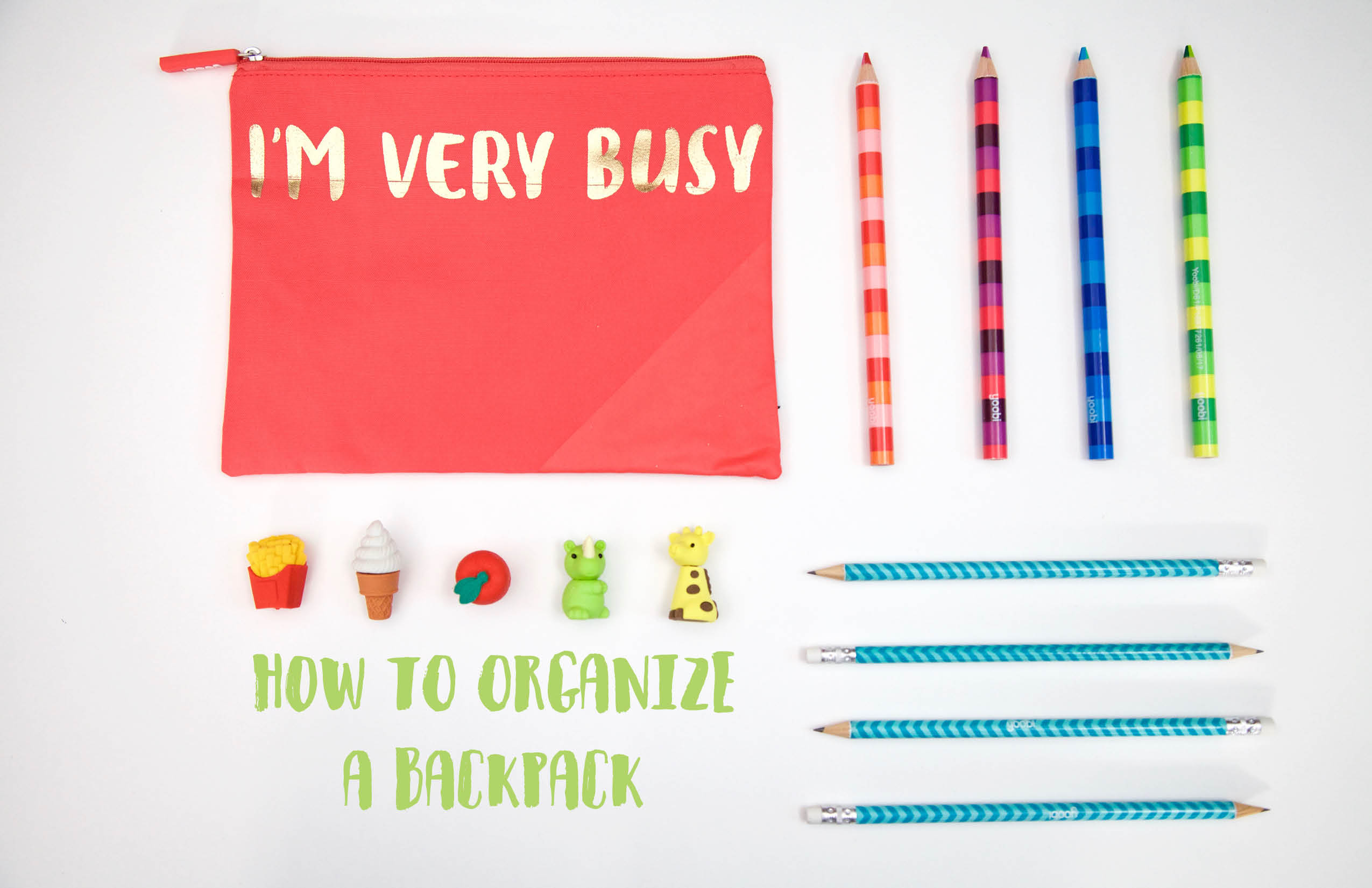 Slide 1 of 8
Last week professional organizer Julianna Strickland shared with us a super helpful blog on how to organize your kid's backpack! Her tips were so handy that we thought we'd put it together here, in a handy slideshow. Here's her advice:
"My number one rule with organizing is for everything to have a home.
If every single item that you own has a place where it lives (comfortably... not just shoved in), it becomes so much easier to stay tidy. So let's break down your son or daughter's backpack and what ideally lives in there." Click through to see her tips!
Slide 2 of 8
1. The "School to Home, Home to School" Folder: Julianna has a folder specifically for papers that go to and from school.
"Get in the habit of checking it when the kids get home each afternoon," she writes, "And you can remind your child or his teacher to check it at school." The folder can house homework, permission slips, forms to sign, etc.
"If you like to get crafty (like me), you can dress it up with some patterned washi tape."
Slide 3 of 8
2. Pencil case: "Don't let your kiddo be the one that can never find a writing utensil," Julianna warns. "Keep them all neatly contained in a cute zipper bag, and throw a few colored pencils and fun erasers in there to keep things interesting."
Slide 4 of 8
3. Comfort Kit: "Put some essentials together to keep your kid (or yourself, let's be honest) as comfortable as possible. It's hard to learn when you're hungry or not feeling well, so I like to keep a case with lip balm, band aids, hand sanitizer, tissues, and a snack on hand." Julianna also advises personalizing this kit to your kid's needs!
Slide 5 of 8
Pro Tip: "While you can't send your kids to school with medicine, make sure to keep your favorite medicines or products on hand to keep them feeling good while they're at school." Julianna is all about keeping synthetics and anything artificial out of her body, so her pick is products from Genexa, like Cold Crush for kids.
Thanks for the shout out, Julianna!
Slide 6 of 8
4. Something Fun: Whether you're an adult or a kid in school waiting is boring (for the bus, for class to start, etc.), so having a book or game handy can be a lifesaver. "Try mixing it up and putting something new for them to find once in awhile," Julianna advises, "It'll be a cute surprise!"
Slide 7 of 8
5. Luggage Tag: This is such a useful tool for your child's backpack for many reasons, according to Julianna. "You can use it as intended and write a name and phone number on it in case the bag is lost, but you can also use it as a checklist; for instance, list the things they should remember on the back (lunch, jacket, water bottle, homework) and they'll learn to never forget the essentials for school."
We think this tip is AWESOME! Thanks, Julianna!
Slide 8 of 8
Extra Credit: "This list is in no way comprehensive. If your child brings lunch to school, that should go in the backpack!" You can also add a water bottle, school books, an umbrella, or whatever else you or your child might need.
That's all there is to it! A big thanks to Julianna for sharing her awesome tips with us, and we can't wait to see what innovative organization techniques she comes up with next.
Bonus! We're holding a giveaway of everything you've seen in this post! Head over to Julianna's Instagram for full rules and details.